8 WEEK SESSION:
On camera
On location
Weekly scene study (often written specifically for actors by Mr. Gulager)
Film exercises (matching, hitting marks, more)
Each class begins with a lecture about acting and/or film-making. Stanislavski, Grand Guignol, the intangible capacity and priority of the artist to "delight and surprise"...one never knows what acting subject Mr. Gulager's contemplations will explore. What is for certain is that students will be privy to a wealth of experience from Mr. Gulager's 50 years as a professional actor, director and teacher.

The main body of the class, scene study, was first developed before video cameras were readily available. Class members would hover close while the performers "worked" their scene mimicking the intimacy of working on a set with crew members hovering around you. Locations were and still are one of the factors which makes this class such a unique experience. Every week class meets at a different location, sometimes the beach, sometimes the downtown train station, a parking garage, a car (for driving scenes) a home, a restaurant (for eating, matching scenes).

In the 1970's, with the help of his 19 year old son, John, Mr Gulager started incorporating the use of video cameras into the class curriculum. By the 1980's, John's camera and Diane's "boom" (microphone) became an inseparable part of the class.

In present day the use of a different location every week continues and every scene and most film acting exercises are shot and miked. With the addition of the camera, the intimate proximity of students and teacher during scene performances has not changed. It is now the initial teaching platform where Mr. Gulager helps students become aware of what makes a scene "camera ready". "Camera ready" scenes are shot focusing alternately on each actor. After all the scenes are filmed, class meets at the studio where scenes are projected to be viewed and critiqued by Mr. Gulager.
If your interested in the workshop, drop us a line at acting@gulager.com and we'll set up an interview.
Next session:
Saturday, August 2nd, 2014
12:00PM - 7:00PM (sometimes longer)
Class meets every Saturday. Rehearsal during the week and preparation for the scene is expected and required.
_____________________________________________________________________________

Tuition:
$700 (2 months)
Interview and a Non-Refundable Deposit of $100 required, CLASS SIZE LIMITED!
_____________________________________________________________________________
additional $160 to take your footage (you provide a USB hard drive)
_____________________________________________________________________________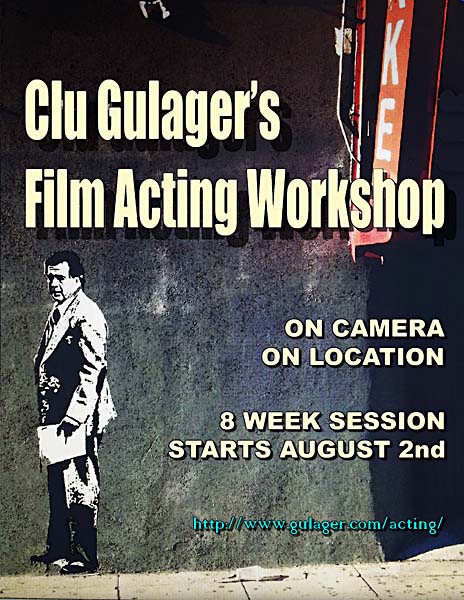 _____________________________________________________________________________

Teacher:

Clu Gulager, 50 year film and television acting veteran (FEAST, THE LAST PICTURE SHOW, THE KILLERS, THE RETURN OF THE LIVING DEAD, THE VIRGINIAN) and director (A DAY WITH THE BOYS, JOHN and NORMA NOVAK a rock opera, and FUCKING TULSA) The American Cinemateque honored Mr. Gulager with a screening of his shorts and film pieces at the Egyptian Theatre in Hollywood on January 27th, 2010. Hollywood Outlaws Read a review.


PSYCHOTRONIC Magazine article about Clu Gulager

RYAN MCGINLEY's "MY TOP 10 ART FILMS" picked Clu Gulager's A DAY WITH THE BOYS (1968) for VICE magazine.

Camera:

Director/Cinematographer John Gulager (FEAST Trilogy, PIRANHA 3DD, PROJECT GREENLIGHT)

Sound, assistant acting coach and student liaison:

Actress Diane Ayala Goldner (FEAST Trilogy, THE COLLECTOR, Rob Zombie's H2, THE SHIELD, HATCHET 3)
________________________________________________________


In the mid 1960's after working in live television, guest starring on such series as ALFRED HITCHCOCK PRESENTS and while still in the midst of starring in his first series THE TALL MAN Clu Gulager began teaching his "Film Acting Workshop". Mr. Gulager had trained with the highly respected Mr. Paul Baker and studied in Paris with Jean-Louis Barrault (CHILDREN OF PARADISE), yet found himself unprepared for the challenges unique to working professionally in front of the camera. Hitting your marks, finding your light, repeating the same section of a scene over and over again, eating 10 hot dogs, shooting out of sequence, a noisy grumbling joking crew, almost no rehearsal, being miked and magnified by the eye of the camera was all part of a new language. The "Film Acting Workshop" was started to address these challenges as well as to share the avarice Mr. Gulager feels for the art of film making.
*Grounds for Dismissal*
Students may be dismissed from CLU GULAGER'S FILM ACTING WORKSHOP due to but not limited to: disrespect, inappropriate behavior, absences, repeated tardiness, or, in the opinion of Mr. Gulager, non-participation. There are no tuition refunds under these circumstances.
*Withdrawal*
Students who wish to withdraw from the Workshop for any reason must submit a written notice (email is acceptable) to Diane Goldner, the student liaison. The official date of withdrawal will be the date that she receives the notice. Full refunds (less the deposit) are available only before the beginning of the first class.